Direct online ordering options for over 350 types available from stock. Individual advice for custom-made magnets.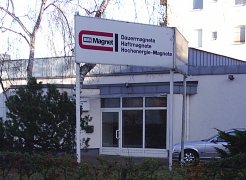 Our factory in Berlin
The company IBS Magnet was founded in 1972 by engineer K. H. Schroeter as an engineerng company for magnet technology.
Since then, the company has continued to expand. The current magnet factory manufactures permanent magnets and magnet systems using modern machinery. We specialise in manufacturing high-power magnets from rare earths (NdFeB and SmCo).
Today, we can count companies from all sectors of industry among our satisfied customers.

We supply all common magnetic materials as well as magnet systems, such as magnetic clamps and standard magnets both to customer specifications and from stock.
Our company is certified to DIN EN ISO 9001:2000. Follow the Certified Quality link to view our certificate.
Using high-quality magnetic material from Vacuumschmelze GmbH&Co.KG, Hanau, Germany we manufacture magnets to customer specifications from existing raw magnetic blocks.
Our staff is experienced and worked in magnetic technology for a considerable time and are happy to provide help and expert advice.